The dry granulator is a piece of equipment that we have developed that is designed for extrusion, pulverizing and granulating materials all while operating with high efficiency.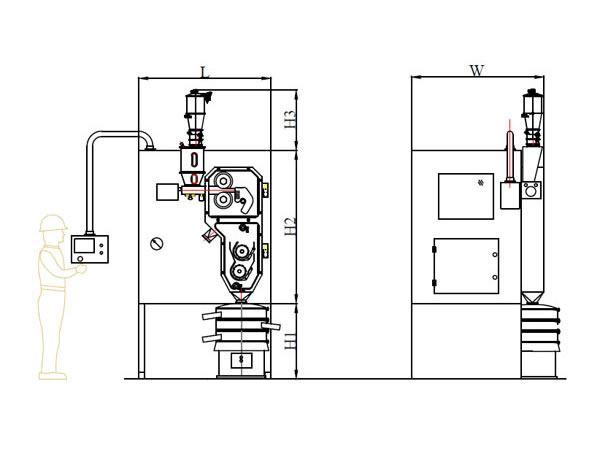 Application
The dry granulator is widely used for material granulating in the pharmaceutical industry, foodstuff industry and chemical industry. It is particularly suitable for materials that are easily decomposed or stick together when they are introduced to moisture and heat.
Parameters
Items

LG-40

LG-70

LG-100

LG-150

LG-200

LG-250

LG-300

Max production capacity (kg/h)
40
70
100
150
200
250
300
Mesh number
10~30
Total power (kw)
6.87
9.52
12.97
14.97
14.97
21
21
Dimension (mm)
L
900
1100
1450
1450
1450
1500
1500
W
800
1000
1450
1500
1550
1600
1650
H1
800 (It can also be customized according to your requirement)
H2
1200
1400
1600
1600
1600
1800
1800
H3
1000 (It can also be customized according to your requirement)
Weight (kg)
500
600
1000
1200
1350
1800
2000
Process Flow:
After mixing, the powder enters into the feeding silo from the top feeding port. The powder is delivered into the extruding device. By the force of two pressure extruding gears, the powder material becomes flattened into a thin flake. Through the two-grade milling system, it makes the thin flake material into the desired granule, and then finishes the granulating process.
The machine features a compact structure and is easy to clean and operate. We have employed the newest rolling control technology for this granulation equipment that adjusts its operation based on the material being processed. The roller compactor has various process parameters that can be quickly adjusted (capacity, flake density, rolling pressure, speed, etc.). This allows the machinery to produce high quality granules, improving stability and solubility of the granule.